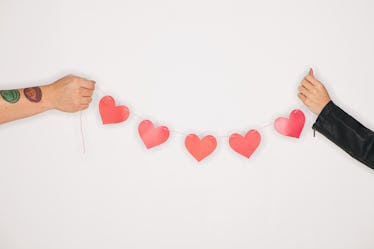 5 Valentine's Day Gifts For Guys Under $100 That He'll Really Appreciate
When I think of holiday gift guides for men, I first picture a shaving kit. I'm not sure why, as I've never gifted a man a razor in my life, but whatever — a shiny blade and a fancy foaming shave cream immediately come to mind. There's nothing terribly wrong with gifting a razor subscription service, or nice new bathroom products for men, but something tells me there are other ideas for male-centric gifts that would actually make your partner a whole lot happier than a beard trimmer. What are some Valentine's Day gifts for guys under $100 that aren't razors, you ask?
Ah, there's the rub. It's actually quite tricky to shop for the opposite gender, as it turns out. I think that if you focus on three questions while choosing a Valentine's Day gift for your partner, you won't screw it up too badly. The first question to ask yourself is "What does my partner want?" Next, ask yourself, "What does my partner need?" (According to them, of course, no forcing haircuts on anybody in the name of love.) Finally, ask yourself, "What does my partner not splurge on?" Answers to the above could be: My partner wants a trip to Italy, my partner needs a new wine opener, and my partner never splurges on meals out. Ideal gifts: tickets to Rome — or more realistically, tickets to that new Italian drama at the foreign movie theater, a really luxe wine set, or a cooking class. Here are some other ideas.
1. A Record Player
If your partner wants a career in music, needs a fun new toy to play with, or rarely drops cash on themselves, this very basic turntable is your best bet. It can play 33-1/3 and 45 RPM records, and hook up to your computer or speakers as well. Yes, it's a bit of a hipster gift, but if your partner has a record collection, they're going to love this. Splurge for your partner.
2. A Hot Sauce Gift Pack
If your partner wants to be a wing-reviewer for The Infatuation, needs a hot sauce other than Frank's in his fridge, and never splurges on kitchen items, get him a gift pack from Heatonist, a hip Brooklyn-based hot sauce purveyor that will ship anywhere in the USA for a $6 flat rate. You can choose a pre-curated gift set, or grab a gift card for your V-day date. Spice things up, because why not?
3. A Filson Dopp Kit
If your partner wants to visit all 50 states, needs to stop traveling with his toothbrush in a plastic bag, and never splurges on luggage, treat him to this travel pack by rugged apparel/accessories brand Filson on Valentine's Day. I like this idea because it's the sort of thing a man might not buy himself, but that he will use all of the time. Especially if he travels a lot.
4. A StubHub Gift Card
If your partner wants to see Hamilton, needs to get out of the house more, and never splurges on sports games or concerts, why not get them a gift certificate to StubHub so that they can choose exactly what it is they want to see, and you won't have to worry about covering the entire cost. (Tickets are v expensive!)
5. A Crooked Media Coffee Mug
Does your partner want to work in D.C., need to profess his love for Crooked Media's podcast "Pod Save America", and never splash out on swag? This mug is specific to men who are fans of the podcast network, but I think any fun coffee mug makes for a useful, if small, gift that shows you care. It's perfect for those newer relationships where you aren't sure if gifts are definitely being exchanged. Add a gift certificate to his favorite coffee spot if you're feeling extra generous.
Check out the entire Gen Why series and other videos on Facebook and the Bustle app across Apple TV, Roku, and Amazon Fire TV.
Check out the "Best of Elite Daily" stream in the Bustle App for more stories just like this!