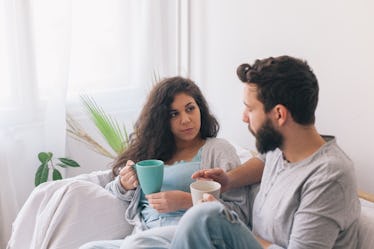 Stay Out Of Your Partner's Family Drama With These 3 Helpful Tips
Ah, family drama. Whether your mom bought your whole family tickets to The Handmaid's Tale opera and then forced everyone to go for a "cultural experience", or your parents promised they would stop picking Christmas cards where you look like a mess but still haven't — sometimes your relatives can drive you relatively bonkers. (Or completely going-off-the-rails bonkers.) Though by now you may know the best ways to deal with your own kin's drama, knowing the best course of action for when your partner has family drama can be a whole other opera of it's own.
"Support is the term when it comes to your partner's family drama. It is easy to get pulled in, sucked in, and frankly out ahead of where you need to be," Dr. Joshua Klapow, Ph.D. Clinical Psychologist and Host of The Kurre and Klapow Show, tells Elite Daily. "Your role is to support your partner. That doesn't necessarily mean you agree with them on everything but it does mean to be there to help them (not their family) manage the drama."
If your partner has some major family drama going on, here are three tips on how to be supportive while staying the heck out of it.