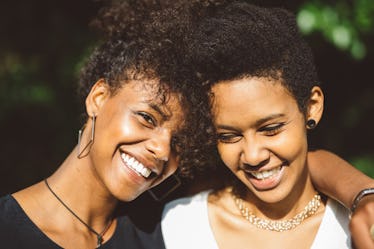 6 Ways Life Would Totally Suck If You Weren't Best Friends With Your Big Sis
I'm pretty sure the Kelly Clarkson song, "My Life Would Suck Without You," was written about my big sister. It's true — my life would probably be terrible without her in it. She has been my best friend since birth (literally), and has continued to be my partner in crime ever since. If you also have an older sister who doubles as an awesome BFF, you feel me. It's almost unimaginable to think of sisters who aren't also BFFs, but it does happen. Luckily, you are graced with both a sister and a friend — a sister best friend. At one point or another, you might have thought about if your big sister weren't your best friend, how life would be so different.
With the incredible bond you currently share with your sister, you're most likely used to how she adds so much sparkle to your life. It's a luxury you have to remember to be thankful for, because you and your sis are incredibly lucky. So, send your sister a #blessed Gif telling her how much you love her, and turn up the volume on that Kelly Clarkson song — because we're celebrating going through this thing called life with a sister BFF who's the real deal.