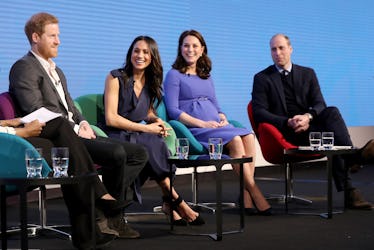 This Is The Royal You're Destined To Marry, Based On Your Zodiac Sign
Chris Jackson/Getty Images Entertainment/Getty Images
I care about exactly three things in life: My dog, the Royal Family, and finding a partner who can handle me in all of my Pisces glory. Oh, and Beyoncé. If your priorities are similarly aligned (and like, why wouldn't they be?), you're probs wondering 1.) How to marry a royal, and 2.) Who your perfect royal match might be, based on your zodiac sign.
Great, I'm glad you're here.
Sadly, I can't give you a road map to landing a royal fiancé — as Meghan Markle has yet to respond to my many messages on that topic — but I can tell you exactly which royal is your one true love, as dictated by the stars.
Are you a fellow Pisces? Let me introduce you to Prince Phillippos of Greece and Denmark, a Taurus. He looks a smidge like a grown-up Neville Longbottom, but in a cool, royal way. Are you a Capricorn like Kate? You, too, would be well-matched with a Cancer like Prince William. Or maybe you're a Virgo like Harry? King Jigme Khesar Mangyel Wangchuck — the "Dragon King" of the Kingdom of Bhutan — could be just the guy for you (though, unsurprisingly, you'd also have great sexual chemistry with a Leo like Meghan Markle).
Without further adieu, here's a breakdown of each sign's very own Prince or Princess Charming.