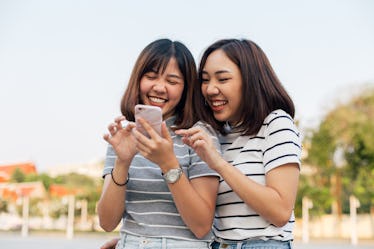 If You Trust The People You Date Pretty Easily, You're Probably One Of These 4 Zodiac Signs
If you tend to be an open book, it may be natural for you to trust the people you date pretty early on. Whether you like to share it all on the first date or you tend to assume good intentions from people, you may find building trust with a new partner to be pretty easy. Although astrology may not solve every problem, it can often provide some sage insights into one's interpersonal relationships and communication style. And if you're likely to trust the people you date with ease, that may have something to do with the time you were born.
"While trust may be based on other aspects in astrology, the mutable signs: Gemini, Virgo, Sagittarius, Pisces tend to give their all to believing the best in their partner," astrologer Lisa Stardust tells Elite Daily. Marking both the end of every season and the preparation for the season to come, mutable signs are known for their flexibility and ability to handle transition. They are creatures of change and do well with problem solving.
Great at opening communication and cultivating sympathy, it's natural to think that mutable signs — Gemini, Virgo, Sagittarius, and Pisces — may be more likely to easily feel trust in a relationship.