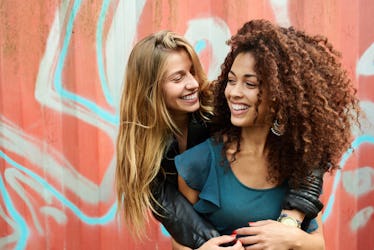 6 Key Things To Remember When You Start To Actually Date Your Best Friend
So, it happened. You caught feelings for your BFF. When a relationship starts out platonic and blossoms into something more, it can be tricky to know how to navigate the shift. But let's say you've done it — you've expressed your feelings, you both have a crush, and you decide to take the leap into romantic territory. Yay! When you start dating your best friend, it's exciting and scary at the same time. You know this person well, and they're already your go-to pal, but now you also get to make out with them on the reg. What a time to be alive.
As thrilling as it is, though, dating your bestie doesn't always come as naturally as you might expect. After all, it's a big change from your former status as "just friends." When you become romantically involved, your relationship is going to be different than it was before. And it requires some intentional thought as to how you're going to make things work. "Everything will change," explains Jennifer B. Rhodes, PsyD. "Expecting it will help you cultivate the flexibility you will need to move through the transition." It's important to stay open to change so you can work through it together as a couple.
If you've just started dating your best friend, keep the following things in mind to help your relationship thrive.