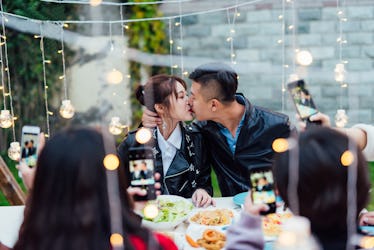 3 Zodiac Signs Most Likely To Prefer To Elope, According To Astrologers
So-called "shotgun weddings" get a bad wrap. With looming (and outdated) ideas about unplanned pregnancy, the couple's "reputation" in society, or people rushing down the aisle for whatever external reason — shotgun weddings seem to be a product of bad country music videos from the 1940s. But I think there's something pretty awesome, and frankly maybe kind of even progressive about a low-key wedding that doesn't break the bank and doesn't take years to plan. There's nothing to be embarrassed about if you prefer to elope, backyard nuptials, or swapping vows at city hall. Your wedding is your day. If you want to make your wedding fit for the Queen of England or if you want to tie the knot wearing your pajamas (like love of my life Kurt Cobain) more power to you.
There are many factors that may make someone more likely to keep their wedding pretty quick and low-key. Maybe you're balling on a budget, maybe you and your boo are crazy in love, or maybe your zodiac sign is a little more likely to quickly put a ring on it 'hunny.
If you're one of three these signs, you may be more likely to want a quick and low-key wedding.