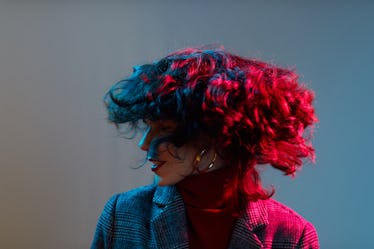 8 Mantras To Manifest At The Start Of A New Relationship, Because A Lot Is Changing
Whether you've just deleted your Tinder, finally had the DTR talk, or kicked it '50s style and decided to totally go steady with your honey, if you just started a new relationship you may be feeling a lot of feelings. From leftover nerves from nightmare first dates to total jumping-up and down excited, solidifying your status with a new boo sometimes means some big lifestyle changes. If you've just started a new relationship, it can be monumental to remember to take time for yourself. While you care for your new partner deeply, checking in with your own thoughts and feelings is still super important!
With all of life's transitions like relationships starting or ending, repeating mantras can be a great way to recenter your thoughts and remember your strength. Self-affirmation is a super important practice, whether it's combating imposture syndrome at a new job, cultivating confidence with a new hairstyle, or finding comfort and clarity within a new romantic relationship. Starting a new relationship can be intimidating, but it's important to remember that you deserve all the love and happiness this world has to offer.
If you've just started a new romance, and you're feeling a lot of feelings, here are eight mantras to keep you calm and confident.