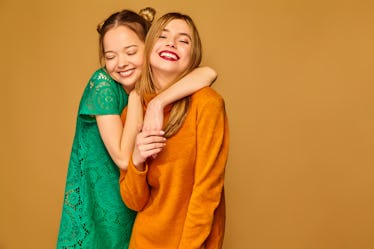 If You Have A Cousin Who's More Like A Sister, These 10 Things Are So Relatable
When it comes to cousins, you truly hit the jackpot. Not only are the two of you best friends forever, but your cousin is also like your soul sister since day one. Of course, it helps that you come from the same family and have basically grown up together — but if you have a cousin who's more like a sister, you also know that there's so much more than shared DNA between the two of you.
It's safe to say you're blessed with a pretty spectacular cousin-sister who wears multiple hats in her role. You swap clothes on the regular, have an endless amount of inside jokes, and aren't afraid to share your most embarrassing stories. (There's a no judgement zone when it comes to her.)
She's your partner in crime at all family events, your real-life throwback Thursday for every memory from childhood, and a personal diary that stores your secrets with a solid lock. You probably even get mistaken for real sisters all the time, and honestly love it.
Just like she's not just a friend, she's a best friend, your cousin is not just a cousin. She's truly your sister, and you wouldn't have it any other way.
This article was originally published on