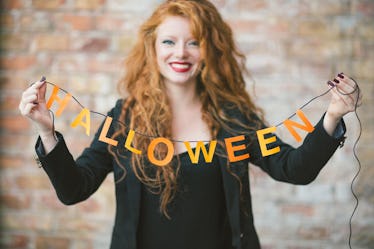 If You Decorate Early AF For The Holidays, These 6 Things Are So Relatable
It's the most wonderful time of the year, and yes, I'm talking about the holiday season. I am also fully aware that it is still summertime and a million degrees outside, but inside my heart, it is cool, crisp, and covered in fall foliage. Oh, I'm dreaming of a festive holiday season, and even as we speak, I'm wearing a Halloween T-shirt. It's true, I might get a little too excited, but if you decorate early for the holidays, you know exactly how I feel.
Some people wait all year for the summer, or maybe even their birthday. I wait patiently for this epic three months of non-stop holiday fun. From October all the way through December, I am the happiest girl in the whole world. Is it so wrong to want to kick off the fun a little early on? I'm the kind of person who shows up to the party right on time when I know it's going to be a good time. Why deny yourself party time by being fashionably late?
It's not like I'm forcing everyone to drink Pumpkin Spice Lattes and watch Nightmare Before Christmas on repeat. (Although, that does sound like the perfect kind of plan.) I just like to get in the spirit by decorating as early as possible, and as a result, these six particular things speak to my soul, and you'll find yourself saying, "Same," as well. Pretty soon, everyone else will catch up. Until then, I'll be chilling in my holiday fantasy land.