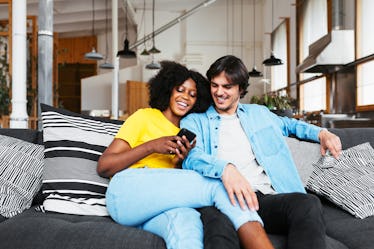 4 Zodiac Signs That Aren't Super Into FWBs, According To Astrologers
Having a friend with benefits (FWB) can be a blast — getting intimate with a close friend? That's can definitely be a great time. Still, not everyone's looking for "benefits" from their close friends (until I'm allowed to go on my roommate's healthcare), and it's good to keep this in mind. For more info, it can always be fun to check your horoscope to see which signs might love being a FWB, and which aren't into friends with benefits.
Remember, astrology doesn't determine anyone's future, and just because someone's zodiac sign doesn't indicate that they're a good candidate to be a FWB, doesn't mean it won't work out — every FWB situation is different. "People are people, regardless of astrology," host and producer of the OrBits podcast Julia Schachter tells Elite Daily. "If you're going into a FWB situation with someone who isn't seamlessly compatible with FWB situations, make sure expectations are clear from the beginning." That's good to know, because I've certainly thrown down my horoscope in frustration when I realized Michael Cera and I were never going to be a thing, but then I realized he and I just needed to hammer out the details of our texting style (right now it's 99% me, 1% AT&T, and 0% him).
Read on to find out if you are one of the four signs that might not be super into FWB.