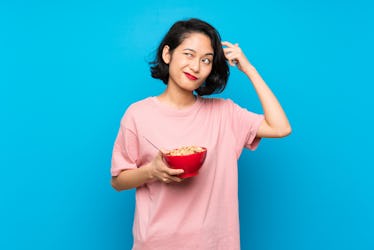 4 Brilliant Responses For The Next Time Someone Asks When You're Getting Married
Shutterstock
There's no right time to get hit with a question you don't want to answer. Maybe you and your boo decide to keep your nuptials super small, or you have absolutely no interest in ever tying the knot. Whatever the case, when someone asks you when you're getting married, it's natural to feel a little awkward. Heck, it's natural not to want to respond at all. You don't need to be a super private person to maintain some level of privacy when it comes to your wedding day. And if unsolicited, intrusive questions are making you uncomfortable, it's always OK to walk away.
Of course, if you're stuck at a family party or trapped in an elevator with your annoying coworker, it can be helpful to have some responses on hand. Perhaps you're single as a Pringle with no wedding plans on the horizon (@ me), or your wedding day is approaching, but you don't want to talk about it. Regardless, a gracious yet concise response can be the perfect way to get out of the conversation.
Here are four responses to try the next time someone asks you when you're getting married, and you don't actually want to talk to them about it.