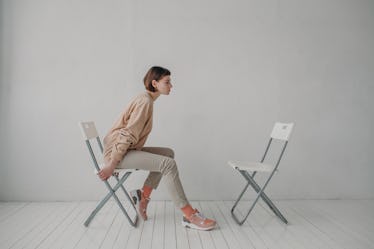 4 Zodiac Signs That Take A While To Feel A Spark On Dates, According To Astrologers
No matter how cute your outfit, how bomb the restaurant is, or even how long you and your date have been flirting — sometimes, sparks take a while to, well, heat up. It's totally natural if it takes a while to feel a spark on dates. And as country-disco icon Kacey Musgraves reminds us, sometimes the hottest fires started with a slow burn.
If you know you're feeling some feelings and want to keep seeing your date, it may just take a second for your sparks to start flying. As astrologer Linda Furiate, tells Elite Daily, "I would imagine any sign will take a while to warm up [especially] if they are on a date with someone who just isn't right for them." And though it could take any sign a little while to really feel a budding connection with a new boo, I have to wonder, are some astrological signs particularly predestined for a slow burn? According to astrology, it sure seems like it.
If you notice it takes you a while to feel a spark on dates with a new cutie, you may be one of these four zodiac signs.