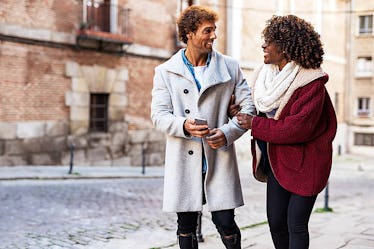 12 Women Describe What The Spark Of Chemistry Really Feels Like, & It's So Cute
That initial spark of chemistry you feel on a date can be so exciting. The longer you talk and the more you get to know each other, that spark can make you feel like all you want to do is talk to them forever. It's amazing, but if you've never felt those initial butterflies, figuring out what the spark of chemistry really feels like isn't always easy. Thankfully, women take to Reddit to talk about these sparks all the time, and their explanations about what chemistry feels like hit the nail right on the head. Here, 12 women explain in adorable detail what that spark feels like, and it's so sweet.
But before we get to the goods, it's important to stress that just because you haven't felt the same spark these women are explaining, doesn't mean you haven't connected with someone on the same level. That spark can show itself in multiple different ways, varying per person and per relationship. It can also take time to develop! Just because you don't feel a spark right away, doesn't mean you won't eventually. You may have felt a different kind of spark with someone, and that is just as special. Like with many things in a relationship, there is no one specific way to feel that spark of chemistry with someone. Below, how 12 women describe their experiences.