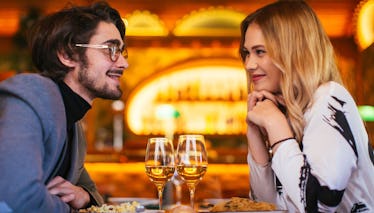 8 People Reveal What Chemistry In A Relationship Feels Like For Them, & Honestly, Same
You know when you meet someone, and you just vibe? You never run out of things to talk about, you laugh together, you have tons in common, and you feel a sort of magnetic-like attraction to them? But also you just want to grab their face and kiss them all over and keep them forever? That, my friends, is called chemistry, and if you get butterflies just thinking about what chemistry in a relationship feels like, then you've definitely been there. It's great, isn't it?
People feel chemistry in different ways, though. Sometimes it takes a little bit of time to form, and other times, you feel it right away. I can tell if I have chemistry with someone on the very first date. If the conversation is awkward and forced, and if I'm not physically attracted to them, I know we don't have chemistry and I'll usually refrain from going on a second date. Like the time I went on an awkward dinner date with an app match, and neither of us texted the other after! I wasn't offended — it was mutually obvious that there was just no spark. (I later ran into him in line for the bathroom at a bar and LOL, so fun! JK not fun at all, it was the most awkward.)
"You [should] feel it in your gut — chemistry is, of course, chemical," Erika Kaplan, senior matchmaker at Three Day Rule, told Elite Daily. If there really is chemistry between you and a date, "you'll feel that pull and feel confident your date is interested, too."
But don't take my word for it. If you're feeling unsure about whether or not you feel that chemical connection with someone, hundreds (and I mean hundreds) of people took to Reddit to talk about what chemistry in a relationship feels like for them. If you can recognize any of these feelings in yourself, congrats! You get an A+ in chemistry. (Bad joke, couldn't resist, sorry not sorry.) But if you just don't feel that spark, maybe it's time to graciously say goodbye.