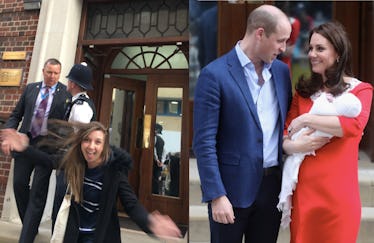 I Waited Outside Of The Hospital For Kate Middleton's Baby & It Was The Best Day Of My Life
Genevieve Wheeler + Getty
On Monday, April 23 at approximately 11 a.m. GMT, His Royal Highness, the Baby of Cambridge, made his grand entrance into the world. That's right, fellow commoners, Kate Middleton gave birth to her third child (and second son!) with Prince William at St. Mary's Hospital in London. And I immediately rushed to the Lindo Wing to get a glimpse of their newest bundle of joy IRL. Oh yes, you read correctly: I waited outside St. Mary's Hospital for the royal baby. For journalism! For the written word! For you, sweet readers!
JK, JK. I went because I am so deeply obsessed with the Royal Family that I once claimed I would cut my own arm off if Kate Middleton needed a spare. When Prince George — the couple's first child (who I like to imagine singing, "I Just Can't Wait To Be King" in his little English accent!) — was born, I threw a tea party in his honor. In a cruel twist of fate, Princess Charlotte entered the world on the exact day I left my study abroad program in London two years back. But not today, Satan. No, siree. On this magnificent Monday in April, the stars aligned.
You see, I'm currently getting my MA in London, and I've basically been waiting for this moment since the Duchess's pregnancy was announced back in September. Thankfully, I woke up this morning with no obligations outside of a spin class and a nail appointment. (Why yes, I was mid-manicure when I heard that the Royal Baby was a boy! And yes, I did practically scream "CAN I SWITCH TO BLUE?!" in the middle of the salon!) The point is, this was my time to shine — to dash from my home in north London to St. Mary's and cross my fingers I'd get to see the Royal Family.
Unsurprisingly, I was not alone. And, very surprisingly, that finger-crossing worked. It must have been the blue nail polish.
The entire back end of the hospital was lined with barricades and swarms of people. Journalists, paparazzi, and news crews were stacked opposite the entrance to the Lindo Wing, where Will and Kate have proudly presented each of their perfect cherubs to the world. Clusters of enthusiastic Brits waved Union Jack in the air. Bunches of students, tourists, and miscellaneous royal fans mingled behind the sidewalk blockades. When I overheard another American speaking and asked why she'd come, she shrugged and said, "I flew over from Virginia to hear my cousin speak at a conference tomorrow morning. But I had nothing better to do today, so when I saw the news, I thought, why not?"
Why not, indeed.
After our convo, I pushed and prodded my way through the aforementioned clusters of people and — magically, fatefully, somewhat aggressively — found myself a spot just a few yards from the hospital entrance. Then, at around 4:40 p.m., a black SUV carrying all of my best friends rolled up. New Baby Daddy — the Duke of Cambridge — hopped out and snagged both Prince George and Princess Charlotte from the back seat. I offered up a weak, "Congratulations," in the tone of a mopey but excited young kitten in their presence, tears coming to my eyes.
I can't believe I was close enough to Charlotte to take this.
I have stacks of magazines in my closet dedicated to this family. And here they were. In front of me, waving. In the flesh. It was an emotional time. (Peep me in the background of what I've now dubbed "Our Family Portrait" in The Daily Mail. It's like Where's Waldo but with my squinty, excited face.)
After the fam headed inside, I tried not to weep and chatted with a few other fans in the bullpen. Most were tourists — from France, from Spain, from Portugal — who, like the Virginian I'd spoken to earlier, thought, "Why not?" Fortunately or unfortunately, I did not run into these fellows with their own little royal baby dolls.
"I have somewhere to be in like 30 minutes, but. This is history," a 20-year-old Canadian woman shared with me. "I'm actually heading to France tomorrow, so I was afraid I might miss this. I definitely lucked out."
In that same moment, a pregnant woman attempted to push her way through the crowds, explaining that she was a week away from giving birth and was already late to her doctor's appointment.
"I called ahead and [the hospital staff] still told me to try this entrance," she told the police (who were, essentially, babysitting fans like myself).
"I believe you, but like... the Royal Family," was all the officer could say, just before letting her through and into the hospital. I immediately wondered why I hadn't disguised myself as a pregnant woman and attempted to sneak in.
Why, yes, I'm calm.
But moments later, the beautiful, perfect, angel of a Duchess stepped out — sporting a red dress and some fire heels, mere hours after giving birth — to grace us with her presence. Along with (you guessed it!!) THE NEWEST ROYAL BABY.
The crowd erupted in screams, the charming parents waved, and their new addition — wrapped up in a white blanket — snoozed. Like the bad*ss royal baby he is.
Naturally, I continued to blubber.
Shortly thereafter, William, Kate, and the babe hopped into another black SUV, offering one final, exuberant wave to their admirers. As the barricades were lifted and swarms of onlookers dispersed, a German news crew stopped me to ask if I'd gotten a good look at the new baby.
"YES HI GERMANY!" I yelped. "The baby looked great! Kate looked great! Everyone looked great! Today is a great day!"
And a great day it was.