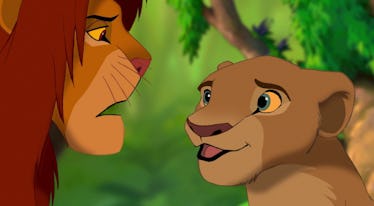 'The Lion King' Remake Will Cut Classics Out But May Have A New Beyoncé Song, So It's OK
Disney
The Lion King has some of the most beloved Disney songs ever, so when it was announced that Jon Favreau was remaking the movie, fans started looking forward to seeing how these classic songs might be reimagined. Well, now we are finally getting our first bits of information on what the music in the live-action Lion King remake will look like. Apparently, the Lion King remake soundtrack will cut some classic songs, but it is also adding new music that is sure to excite fans.
Elton John, the legendary musician and composer behind the original 1994 Lion King soundtrack, spilled some details on what we can expect from the music in the upcoming Lion King remake. Although he recently announced his retirement, John is back to put together the soundtrack for the live-action Lion King set to be released in 2019, and he said he is bringing most of his original music from the first movie back, but not all of it. In an interview with The Sun, Elton John revealed one classic Lion King song is cut from the remake, but also confirmed that most of the songs we all know and love will make a return, as well as a brand new Beyoncé track:
There's going to be four of our songs in the film, from the original: 'Can You Feel The Love Tonight?,' 'Hakuna Matata,' 'I Just Can't Wait To Be King,' and 'Circle of Life' ... And then there will be an end, closing song, and we've been speaking to Beyoncé's people and hopefully [collaborator] Tim [Rice] and I and her can cook up something.
As you can see, Elton John explicitly said that only four songs from the original Lion King are going to be featured in the new one. Thankfully, the four that are coming back really are the most iconic songs for most Lion King fans, but Scar's villainous anthem "Be Prepared" will definitely be missed from the new movie.
It's not really clear why "Be Prepared" is the only song being cut from the new Lion King. The initial assumption might be that the actor playing Scar isn't really a singer — obviously we all know Beyoncé and Donald Glover can sing Nala and Simba's songs — but although Scar actor Chiwetel Ejiofor is more known for his dramatic acting nowadays, one of his first big roles actually showed off his impressive singing voice. Ejiofor was nominated for a Golden Globe for his performance in the 2005 movie musical Kinky Boots. I guess the new movie just didn't see the need for Scar to lay out his evil plans in song? Oh well; you can get your fill of "Be Prepared" from the original Lion King instead of the new movie:
Although it sounds like we won't be seeing an updated version of "Be Prepared" in the new Lion King, it might actually be worth it for the tradeoff of a new Beyoncé song. Elton John confirmed that he and Bey are currently working on a new song for Beyoncé to record, which will play during the movie's end credits. This would continue Beyoncé's tradition of recording an original song for each of her acting roles: there was "Work It Out" for Austin Powers in Goldmember, "Listen" for Dreamgirls, "A Woman Like Me" for The Pink Panther, and "Smash Into You" for Obsessed. Since the new track will almost definitely be released as the Lion King soundtrack's lead single, it will also mark her first single release as a solo artist since putting out "All Night" as her final Lemonade single in 2016.
The Lion King remake is slated to be released on July 19, 2019.