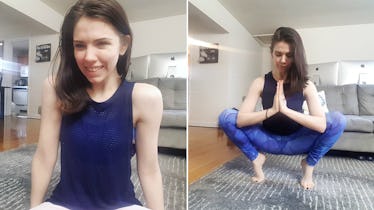 I Tried Yoga With Adriene's "True" Challenge & It Taught Me So Much About Myself
Julia Guerra
There's really no denying the fact that 2017 turned out to be a bust on a broader scale, but for me personally, it was one of my favorite years: I married the great love of my life, pursued my dream job, and I even traveled a lot. Going into 2018, however, I set out to take this life adventure one step further. I feel comfortable in my relationship, my career, but we're all works in progress. I tried Yoga With Adriene's "True" challenge, and I committed to the challenge for the whole month of January to learn a little more about who I am as an individual person, and how I operate from the inside out. Plus, since I've been struggling more than usual lately with my anxiety, what better time for self-exploration than right at the beginning of the new year?
Just in case you aren't tapped into the yogi realm of YouTube, Yoga With Adriene is a channel hosted by none other than Adriene Mishler, a Texas-native actress, instructor, and entrepreneur who founded her YouTube channel to make yoga tutorials easily accessible in the comfort of your home. She's also the founder of Find What Feels Good, a subscription service website that provides even more face-time with Mishler, her practice, and the yoga lifestyle. She basically embodies everything I want to be when I grow up, and then some.
The challenge began on Jan. 2, and it lasted throughout the entire month. Every video was dedicated to something new, such as finesse, trust, surrendering, and charisma, to name a few examples.
For me, working out has always been a means to an end, a physical release, and as I entered 2018 on a clean slate, I was looking forward to discovering the mental side of fitness beyond the runner's high I was accustomed to. It was also an opportunity to dedicate 30 minutes of every day to nothing more than silence and self-reflection. Here are a few things I learned throughout this incredibly unique journey.