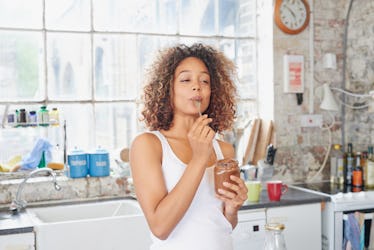 8 Unexpected Upgrades When You Make The Move From Having Roomies To Living Solo
To have or not to have roommates? That is the question. As someone who went from living with three roommates to living alone, I have to tell you, I much prefer the latter. That's not to say I didn't enjoy having the constant company of living with friends and splitting up the chores around the apartment, but the minute I moved out on my own, I knew I was exactly where I needed to be. If you're going back and forth on what to do, you may be wondering how your life changes when you live alone, and I'm here to tell you all about it.
Of course, there's the obvious improvement of having an apartment that's entirely your own, but it's so much more than that. You'll soon find out that having all of that space to yourself just leads to even more improvements that you could never find written on an apartment lease. Actually, there are at least eight upgrades you'll experience when you move out on your own that'll have you jumping for joy.
So, if you're looking to make the move and say, "sayonara" to your roomies, I'll be the first one to welcome you to the solo living lifestyle. In my opinion, it truly is the definition of living your #bestlife.