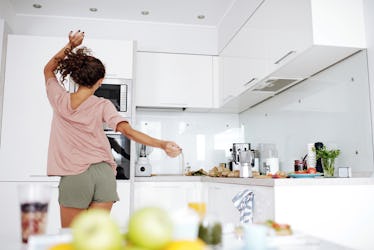 7 Absurdly Relatable Things About Living Alone That'll Make You Say "Same"
Years of passive aggressive roommates, dirty dishes (that aren't yours) piled up in the sink, and cleaning up after someone else on the reg can make just about anyone want to live solo. You feel like you've truly made it when you're finally able to move into a place of your own. Sure, living with roommates definitely comes with perks in addition to some negatives, but living on your own feels like a breath of fresh air. It's a dream come true to finally have your home sweet home, your own rules, and zero garments of dirty laundry in sight in your living room. People who live alone will most likely relate to my love of this glorious lifestyle.
Once you live by yourself, you may never want to go back to having roommates. Sorry, ex-roommates of the past. You were dear, but I just love my solo living situation so, so much and simply cannot part with it!
Needless to say, all of my people who love that solo living lifestyle, raise your hands. Whether you had a falling out with a roommate, or just decided to embrace the studio life in the city, you probably feel so #blessed for these seven magical experiences of living by yourself.