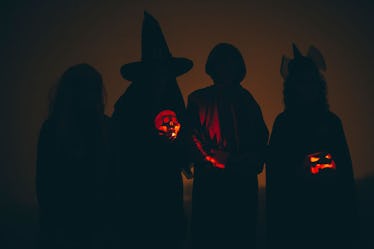 How You Should Spend This Halloween Night, Based On Your Zodiac Sign
The spookiest night of the year is upon us, Stargazers. How are you going to celebrate this oh-so-festive occasion? Pumpkin carving? Netflix and chill? Not to worry, we've got you covered on how you should spend Halloween 2018, based on your zodiac sign. Oh, and if you were planning on going all out with your costume this year, you can do that, too. The possibilities are endless, as All Hallows' Eve is an ancient celebration. Besides, have you not seen Halloween's astro weather this year? Lucky for us, the energy should to feel a whole lot lighter, and I'll tell you why.
On Halloween, Venus, planet of love, beauty, and relationships, slides back into its home sign Libra, wrapping up an incredibly powerful retrograde cycle that finally comes to an end on Nov. 16. That in itself will take some weight off our shoulders, as Venus in Scorpio is one of the most difficult transits to endure, not to mention polarizing. However, that's not all; Mercury, planet of communication, technology, and thought process, leaves probing Scorpio, and enters optimistic Sagittarius. Woohoo! Talk about a game changer. Mercury in Scorpio is eerie and secretive, while Mercury in Sagittarius is playful and philosophically hopeful.
Anyway, now that you know a bit more about the upcoming cosmic temperatures, here's a closer look at how you should celebrate the spookiest night of the year:
Aries: Go On A Spooky Adventure
Oh, Aries. You're a total thrill seeker, and on the night of Halloween, your warrior spirit will be craving a much-needed adventure. What about an exciting getaway with your BFFs? Or perhaps a haunted ghost tour?
Taurus: Dabble Into The Occult
Alright, maybe you're not so much a thrill seeker per se; however, you could be feeling extra witchy during this time, which is totally appropriate for Halloween night. Why not play a chilling game of the ouija board?
Gemini: Fall In Love At Midnight
Who am I kidding? Gemini hates commitment, but something is definitely brewing in your love life this season. Don't think about so much, and get moving. Love will be waiting on the other side.
Cancer: Concoct A Your Own Potion
With the moon traveling though your practical sixth house, you may want to research on herbalism, or perhaps concoct your own love elixir. Who knows, maybe you'll read some tea leaves in the process.
Leo: Host Your Own Monster Mash
It's party time, Leo babe. Then again, it's always a party when you're around. With the moon traveling through your fifth house of fun, you'll have your dancing shoes ready to go. Party at your house?
Virgo: Bake Some Halloween Goodies
Halloween cookies and chill? Oh, Virgo, no one knows how to host a bake-athon better than you. Plus, whoever said Cancer was the most domestic in the zodiac, clearly hasn't tasted your baking. Pumpkin pie, anyone?
Libra: Get Lost In A Horror Novel
Venus retrograde enters your sign on Halloween, so if you're not in the mood to glam it up, get cozy, and lose yourself in a spooky horror classic. Oh, and you're never too old to exchange scary stories either.
Scorpio: Carve A Cool Pumpkin Face
Scorpio, you're Halloween royalty. Plus, with the moon traveling through your aesthetically-pleasing second house of values, you're feeling creative, and hands on. Are you ready to slay that pumpkin-carving contest?
Sagittarius: If You Got It, Haunt It
I don't care if it's Scorpio season, Sagittarius. Both the moon and Mercury are moonwalking through your sign, and the spotlight is on you. Have you picked out your costume yet? It's time for your spooky debut.
Capricorn: Communicate With The Other Side
Do you believe in ghosts? Probably not, and no one's judging here, but you are the most realistic in the zodiac; however, you could be feeling rather introspective during this time. So, make sure you pay attention to your dreams.
Aquarius: Go Trick Or Treating For Fun
Oh, Aquarius, you love to rebel against the norm, and what better time than on Halloween? With the moon traveling through your ruling house of society and extended network, you're in the mood to gather with your tribe.
Pisces: Take Plenty Of Halloween Footage
You may consider working overtime on Halloween night, as the moon and Mercury will be in your ambitious tenth house of career; however, let's turn this energy around, while keeping you in the spotlight. I say you document your entire Halloween experience, and share it with the world. You in?