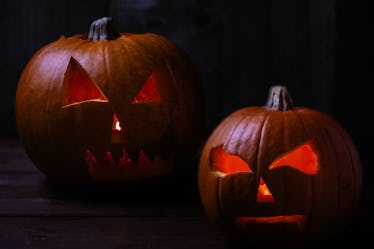 Venus Retrograde Enters Libra On Halloween & We're In For A Few Tricks
With All Hallows' Eve not too far away, it's important that we mentally prepare ourselves for what's to come, especially when we have the privilege of looking to the stars for guidance, right? Speaking of which, Venus retrograde re-enters Libra on Halloween until Nov. 16, putting a justice-seeking magnifying glass over our relationship dynamics. Granted, Venus rules Libra, so this transit won't feel as harsh as Venus in Scorpio; however, this still doesn't take away the fact that Venus recently left the depths of the underworld, and will still be on its backwards journey through Libra, until mid-November. Everything is connected.
Which reminds me, what has your Venus Rx trip been like? There's no denying that this retrograde cycle will be one for the books, as it has sparked a number of emotionally-driven power thrills within our current relationships. In the end, Venus retrograde in Scorpio is a time to re-evaluate our core values, intimate partnerships, and self-worth, so once Venus re-enters its home in the sign of Libra, we'll know whether to make it or break it. In fact, Scorpio's intuition is razor sharp, so many of you might already be feeling the pressure. Then again, think of your relationship as a diamond, polished and shiny, but with enough time and pressure, it will be nothing short of spectacular.
Want to know how this Venus retrograde might be affecting you? Check and see where Libra and Scorpio are located in your birth chart. Also, take a look at your Venus placement, and if you're familiar with astrology, check and see if its making any interesting aspects. For example, if you have Libra in your third house of communication, and Scorpio in your fourth house of home, then this retrograde cycle may have stirred up some repressed family relationship issues that you've kept locked away for some time. In fact, once Venus enters Libra, and your third house of chit chat, you might finally open up about a secret you've kept locked away. By all means, this is one of many examples, as astrology is infinite.
Your Astrology Forecast For Halloween 2018
The month ends on a rather spooky, yet flamboyant note, as the moon slides into child-like Leo, sparking light-hearted feels and fun-filled activities, although, that's not all, stargazers. We already know that Venus cruises back into lovable Libra, but Mercury the messenger also leaves mysterious Scorpio, and enters spontaneous Sagittarius, that same day. Finally! Yes, it's time to crack jokes, and bask in your all-mighty Jupiterian language. By the way, no offense to Scorpios, but this energy has not been easy. Granted, Halloween festivities usually take place during Scorpio season, obvi, but at least we'll have some fire energy on our side.
For instance, water energy (Cancer, Scorpio, Pisces) is deep, emotional and psychic, which is why it can seem a bit heavy at times. Fire energy (Aries, Leo, Sagittarius) is enthusiastic, lively, and fast-moving, which is so much more appropriate for Halloween, don't you think? The elements play a big part in our daily lives, and all four set a totally different mood. Can you see the difference?
As if we needed more reason to celebrate All Hallows' Eve, I actually have good news for those of you looking for love. Gorgeous Venus will oppose electric Uranus, bringing unexpected opportunities for love. I know, who would've thunk it, and on Halloween night! Remember, Venus rules our relationships and values, and Uranus is spontaneous and sudden. Meaning, this transit could definitely spark some surprise romance, or perhaps some surprise cash! Who knows, when Uranus is involved, anything is possible.