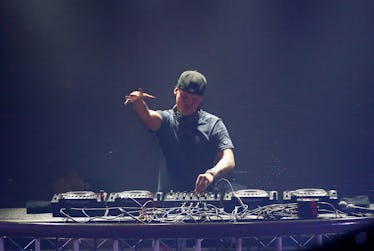 Here's How To Watch The Avicii Documentary So You Can Honor The DJ's Incredible Career
Rich Polk/Getty Images Entertainment/Getty Images
Avicii, the Swedish DJ who has taken the EDM world by storm, passed away on April 20, 2018, at just 28 years old. At such a young age, it's beyond tragic to mourn the loss of such a talented individual. It's wild to think about how much Avicii accomplished in such a short period of time. For anyone looking to revisit some of the highlights of his career, you're probably wondering how to watch Avicii's True Stories documentary, so you can truly honor the incredible music he's produced over the last several years.
According to Variety, Avicii's representative released a statement,
It is with profound sorrow that we announce the loss of Tim Bergling, also known as Avicii. He was found dead in Muscat, Oman this Friday afternoon local time, April 20th. The family is devastated and we ask everyone to please respect their need for privacy in this difficult time. No further statements will be given.
Avicii's documentary, titled True Stories, first premiered on Oct. 26, 2017 for one night in select theaters, and was then released on April 2, 2018, on Netflix, per The Groove Cartel. However, the documentary no longer appears to be available on the streaming service as of April 20. Elite Daily has reached out to Netflix for comment, but did not hear back by publication.
Variety reports that the documentary addresses Avicii's sudden decision to retire from live performances at such a young age, and provides insight and footage into a less-understood side of the late artist, including his work in the studio, both on his own music, and in collaboration with other performers, such as Chris Martin of Coldplay.
In an interview with Billboard shortly after that announcement, the DJ said,
To me it was something I had to do for my health. The scene was not for me. It was not the shows and not the music. It was always the other stuff surrounding it that never came naturally to me. All the other parts of being an artist. I'm more of an introverted person in general. It was always very hard for me. I took on board too much negative energy, I think.
In the vein of recent, similar documentaries, such as Beyonce's Life Is But A Dream, and the late Amy Winehouse's Amy, True Stories is said to be filled with behind-the-scenes footage shot by the DJ's close friend, Levan Tsikurishvili, a director who followed him throughout his career, according to the True Stories Facebook announcement.
According to Tsikurishvili, via DJ Magazine, his goal for the documentary was less about depicting Avicii's success, and more about creating an "honest film about Tim as a person" (Tim Bergling is Avicii's real name). Tsikurishvili continued,
Everybody knows Avicii but very few people know Tim. I think this documentary really shows Tim's struggle and strength of character. Being a worldwide superstar artist is not as easy as it looks on Instagram.
During his short, but intensely packed years as an internationally celebrated DJ, Avicii played more than 800 shows in total.
We Rave You's review of the documentary spoke of the profound insight that the documentary gave into the divergence between Avicii's private and public life:
It's a compelling and cautionary tale that touches on an industry's greed to cash in on the dance music craze and the pressure an artist feels when his managers and agents all-too-willingly risk health and friendship in order to keep the train rolling at maximum speed.
In 2012 (a year before Tsikurishvili began shooting behind-the-scenes footage of the artist), Avicii sat down with Elite Daily to talk about his rise to fame, focusing primarily on the positives:
I don't feel at all crippled [by my career], I just feel so happy that I'm one of the few people who can actually say that I love what I'm doing. To have gotten to the point where I'm at today, it's amazing, I still can't believe it. I'm just very happy.
Our thoughts are with Avicii and his loved ones during this extremely difficult time.