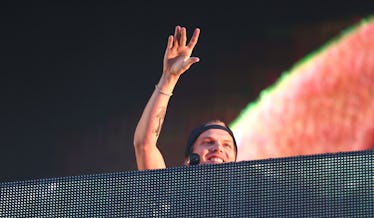 Swedish DJ Avicii Is Dead At 28 & Fans Are Heartbroken
Tim P. Whitby/Getty Images Entertainment/Getty Images
Swedish DJ and producer Avicii, whose real name was Tim Bergling, died on April 20 at just 28 years old. "It is with profound sorrow that we announce the loss of Tim Bergling, also known as Avicii," his publicist said. "He was found dead in Muscat, Oman this Friday afternoon local time, April 20th. The family is devastated and we ask everyone to please respect their need for privacy in this difficult time. No further statements will be given." So heartbreaking. Avicii is dead at 28 years old, and this talented artist was taken way too soon.
Avicii was a superstar DJ and pioneer of EDM, and his death comes just days after he was nominated for a Billboard Music Award for top dance/electronic album for his EP "Avicii (01)." He first broke out with the 2011 hit "Le7els," then had a crossover pop hit in 2013 with "Wake Me Up." During his career, he won two MTV Music Awards, one Billboard Music Award, and was nominated for two Grammys.
Now, as news of his passing ripples through the music world, Twitter is blowing up with an outpouring of love for the artist. Charlie Puth sent out a heartfelt tweet expressing his admiration of Avicii. "Wow, I would like to take a moment to pay tribute to the man who really opened my eyes as to what my productions could one day sound like," he wrote. "@Avicii was a genius and a music innovator, and I can not believe he is no longer with us. RIP to the very best."
Calvin Harris also paid tribute to the artist and offered his condolences to his family. "Devastating news about Avicii, a beautiful soul, passionate and extremely talented with so much more to do," he tweeted. "My heart goes out to his family. God bless you Tim x."
Liam Payne shared his dismay at the news, as well. "Oh my god truly devastated for Avicii very very sad news way to young," he wrote. "What a talent he was. rest in peace x".
And so did Dua Lipa: "Such sad news to hear about Avicii passing," she wrote. "Too young and way too soon. My condolences go out to his family, friends and fans."
Avicii's fanbase is also mourning the shocking loss on Twitter.
Many fans have turned to Avicii's own music in order to express their emotions about his passing, with several of them quoting the lyrics from "Wake Me Up":
Avicii has suffered from various health problems over the years, including acute pancreatitis, which led to the removal of both his gallbladder and his appendix in 2014. Then, in early 2016, he announced his retirement from touring on his website.
"I know I am blessed to be able to travel all around the world and perform, but I have too little left for the life of a real person behind the artist," he wrote. "I will however never let go of music. I will continue to speak to my fans through it, but I've decided this 2016 run will be my last tour and last shows. One part of me can never say never, I could be back… but I won't be right back."
So, so sad!
In a 2016 interview with The Hollywood Reporter, Avicii further explained why he stopped touring. "The scene was not for me," he told the publication. "It was not the shows and not the music. It was always the other stuff surrounding it that never came naturally to me. I'm more of an introverted person in general. It was always very hard for me."
It's obvious that the world has lost a real talent. Rest in peace, Avicii.