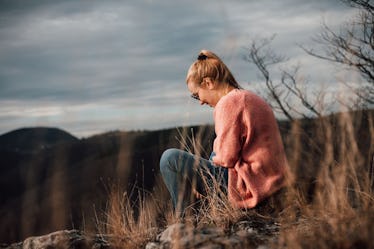 How To Tell A Love Interest That You've Never Been In A Relationship, Because It's NBD
It can sometimes seem like it has become second-nature for human beings to judge each other. It sucks, it's not fair, but somehow, it rings true. And the dating world is no exception. From the look of your dating app profile photo, to the way you may hold a fork at a restaurant, your potential partner is always trying to suss out if you could be their perfect match. But if you're trying to figure out how to tell someone you've never been in a relationship before without being judged, then you've come to the right place.
Speaking as someone who has been there (my now-fiancé was my first, real partner), I know how awkward it can be to tell someone you're interested in that you've never been in a real relationship. The thing is, if you see a potential future with someone you are dating, then it's actually important to have an open and honest discourse about these things.
"You should definitely disclose your relationship history with a partner that you like and want to continue dating," relationship and etiquette expert April Masini tells Elite Daily. "You don't have to do this on the first date, or even the second date, but by the third date you should start talking about this topic. This topic should also include past divorces, children either of you have had, and breakups. It's part of getting to know each other, so definitely disclose. "
So yes, it can be important to convey to someone you're seriously dating that you've never been in a relationship before — but on your own terms, and when you feel most comfortable. Remember: Honesty is key, but portraying yourself a certain way is not.
Now, how can you go about doing this? Well, Masini suggests flipping the table. "Ask your partner what you want to disclose," she explains. "This lets them go first, and gives them the opportunity to ask you back. It also gives you a chance to create a more organic conversation about this topic." If you want to get that conversation going to tell them that you've never been in a relationship, consider just asking them first. Then you can prepare, and understand what their response might be.
If you're feeling bold, Masini suggests just going for it. "Another way to get this issue out on the table is to blurt it out," she says. For example you could start a conversation with, "You know, I've never really been in a relationship." It's daring, but you'll get it over with. "That's one way to say it!" Masini says. "Of course, this kind of proclamation may feel awkward to you and to your partner, but if you can't work it into the conversation otherwise, and you feel anxious that it's not out yet, it's best to get it out there — and this is a way to do it." Ripping the band-aid off isn't for everyone, but can certainly be an effective approach.
Remember that if you've never been in a relationship, you have absolutely nothing to be ashamed of. You deserve a partner who loves you for you, regardless of your experience level. So communicate openly and honestly, exhale, and prepare to dive into your first adult relationship. Love can find you when you least expect it. Until then, focus on truly building the most important relationship you're in — the one you have with yourself.