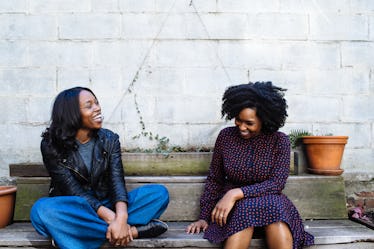 This Is How To Talk To Your Roommate When Your Long-Distance Partner Comes To Visits
When you're doing long-distance, and your boo is about to visit, you're probably consumed with making fun date plans (that you might inevitably cancel because you both won't want to leave your bedroom.) Apart from general body grooming and outfit planning, long-term overnight guests may warrant some domestic pre-planning. If you have roomies, your far away bae isn't the only close personal relationship you're navigating. Knowing how to talk to your roommate about your long-distance partner coming to visit, can ensure a harmonious trip for you and boo (and your roomie, too).
Whether it's reserving the kitchen to cook a romantic meal for two, plotting sexy shower time, or asking your roomie to spend a night somewhere else — roommates and long-distance partners can always cause a tricky conversation. Establishing healthy boundaries is good in any living situation. It's important to feel comfortable in your own home! From "Don't use my shampoo" to "I won't touch the compost but I'm happy to recycle," having clear expectations can make everyone feel good. You work or study hard, and you deserve a place you feel good in to come back to after a long day.
I spoke with Demetrius Figueroa, dating and relationship writer and founder of A Mighty Love, about boundaries setting and how to talk to your roomie when your long-distance partner finally comes to visit.