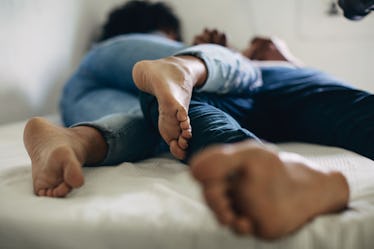 5 Creative Ways To Let Your Roommate Know You're Hooking Up & Need Privacy
One of the hardest parts about sharing a room with a roommate is cultivating a sense of privacy. Whether it's to watch Netflix or hookup with a hottie you met in class, sharing the room respectfully is important! Figuring this out can sometimes be seriously stressful for both roommates to negotiate. But the best thing you can do is talk it out and figure out what works for both of you. If you're unsure how to approach the subject, here's how to tell your roommate you're hooking up and need some privacy.
When it comes down to it, it's about being open and honest about what you need while also considering your roommate's schedule and preferences. Your roommate might be wondering how to start this conversation, too! Make sure to ask before hooking up with someone while they're in the room, because everyone present for sexual activity needs to consent to its occurrence. If you don't feel super comfortable with your roommate, remember you don't have to give details. You can simply say that you need a certain amount of alone time or that a date is coming over. Check out the following tips for more advice!