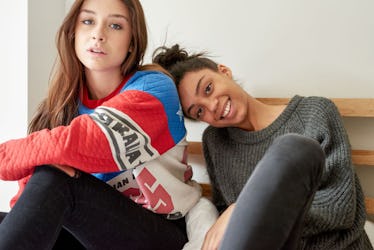 How To Negotiate Hookup Rules With Your Roommate & Avoid Crashing In The Common Room
College comes with all kinds of inherent challenges — like making it to that 8 a.m. lit seminar on time, navigating the potentially grim dining hall options, and of course, finding a way to "get some" in your shared living quarters. Hooking up when you have a roomie is no easy feat, and let's be real: No one wants to get caught unexpectedly in a compromising position between classes. So how are you supposed to keep your intimate activities private when you live in a 120-square-foot box with someone? That's where negotiating roommate hookup rules comes in. Whether you're living with a rando or your bestie, you obviously you want to remain respectful of your roomie if you're going to get along for the entire school year whilst simultaneously catering to your own needs.
Setting up some straightforward rules will not only ensure that you know how to handle any potential hookups, but also that you don't end up being caught off guard when you roll back into your room for a post-finals nap (#awk, to say the least).
"Having these conversations and discovering differences and ways to show respect to each other and to bridge gaps, is what creates good friendships and bonds roommates," says relationship and etiquette expert April Masini told Elite Daily. "Not having these conversations is a shortcut to roommate drama. The sooner you have these conversations, the less opportunity for misunderstanding and drama there will be."
However uncomfortable this conversation may be, it's ultimately a win-win for both of you: You and your roomie can pursue some extra-curricular action with the peace of mind that neither of you ends up P.O'd (or with a disturbing visual that you can't seem to get out of your head). Here are some tried-and-true tips for your nookie negotiations.