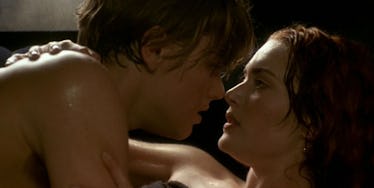 Here's The Sex Scene That'll Turn You On The Most, Based On Your Zodiac Sign
I remember the first graphic movie sex scene I ever saw. It was in the film The Doors, and in it, Val Kilmer and Kathleen Quinlan practice witchcraft, run around naked, and then bang feverishly to the sweeping score of "Carmina Burana." As my (probably way too young) mind took in all this hedonism, I thought, "Wow, if this is what sex is, I am in." Little did I know then how complicated and multifaceted sex would be. But having an idea of what speaks to you sexually by knowing the sex scene that turns you on is a good start. Also, it's just a great excuse to see movie stars get steamy.
Now that you know my favorite (or at least most memorable) sex scene, what movie turns you on the most? Are your favorite cinematic sexy times slow and sensual? Are they sweet and romantic and all about people making a real connection with one another? Or are they hot, kinky, and strictly about getting freaky? Maybe you don't have a favorite at all — or at least, don't think you do. If that's the case, maybe the stars can point you in the right direction for some hot and heavy cinema. Here are the love scenes you need to see, according to your zodiac sign.