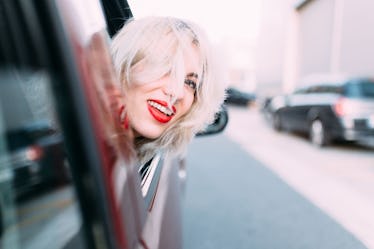 Try These Conversation Starters If You Want To Flirt With The Cutie In Your Uber Pool
Apps are amazing — they deliver Thai food to your doorstep, help you reimburse a friend for dinner, and get you from Point A to Point B. Apps can help you connect with people, and sometimes in unexpected ways. Recently, a girlfriend met me for drinks with the exciting news that she had just met a really hot guy in her UberPOOL. Sadly, she didn't really flirt with him because she had no idea how to talk to someone in an UberPool, and with one stop on her way to meet me, he was gone.
While we poured one out for the loss of "UberPool Dreamboat 2018," we brainstormed how to talk to someone who you randomly end up ride-sharing with. You might be getting where you're going on the cheap, but that's no reason to shortchange your game. I started to think of UberPOOL-ing as vehicular speed dating, and decided to look into this.
In 2016, Uber banned flirting and sexual acts between rides and drivers, but you're still welcome to make conversation with your fellow UberPOOL-ers. Uber elaborates in their community guidelines, "It's OK to chat with other people in the car. But please don't comment on someone's appearance or ask whether they are single." With these guidelines in mind, here are a few ways to strike up a conversation in your UberPOOL if the mood strikes.