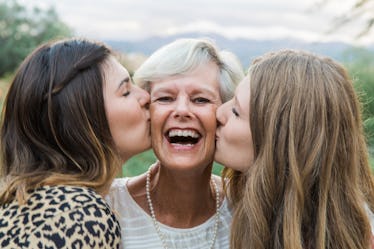 5 Little, Sweet Ways To Stay Close With Your Mom When You Move Away
Your mom is someone who you just can't love enough. She deserves the world (and then some). This woman has given you so much, and she's always there for you. Not to mention, she gives some of the best advice (and hugs) ever. Having all of that for 18 or so years, then being whisked off to college or a job, will stop all of that incredible in-person connection. While it will be a difficult transition, don't worry, because there are so many ideas on how stay close with your mom when you move away.
Just like with any relationship, you should talk with your mom on a regular basis to feel close to her, even from afar. But unlike with any other friendship you have, your mom is probably the easiest to talk to. You naturally fall into a rhythm that's so in sync, that it's like you were never apart.
Living away from your mom — especially if it's for the first time — is very difficult. There's an intense sense of loneliness that you just can't seem to shake. You may constantly feel uncertain about things, and have the urge to call your mom up because of it. But instead of feeling like you're too dependent on her, just know this is totally normal. Also know that you can make her day by doing sweet things every now and then to remind her how amazing she is.