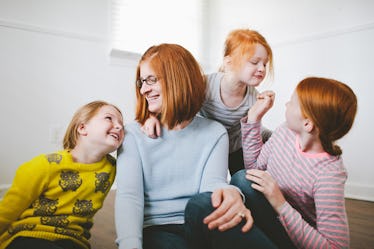 7 Reasons Why The Bond Between Sisters & Their Mom Is Truly Unbreakable
The idea of womanhood is simple — you have each other's backs, no matter what. Once you get a bloodline involved, though, such as the relationship between sisters and their mom, that love meets tremendously new heights. A woman's sister and her mom are some of the first and unparalleled BFFs she will ever have. There's nothing that the bond between sisters and their mom can't withstand, because it's built and strengthen by the rawest and purest emotions.
The matriarch is super important to sisters. She teaches them how to find their place in the world, but most importantly, to always value and love each other. This beautiful kind of relationship between them can't really be simplified. It's complex, thriving, and growing every single day.
While your mom is no longer changing you and your sister's diapers, she always finds a way to nurture you in just the right way when you need it the most. She guides the way for you and your sister to express that support to each other. Oh, Moms — you mean so much to your daughters. The bond between sisters and their mom is no titanium shield or anything, but it will always remain unbreakable because of a few important factors.