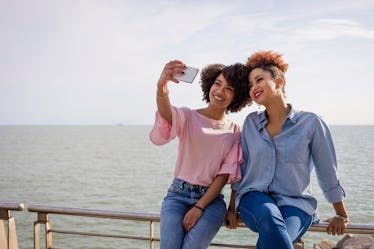 8 Beautiful Milestones In Life That'll Bond You & Your Sister Like Glue
Sisters. You can't live with them, can't live without them (but you have to live with them for what seems like forever). But in all seriousness, sisters are some of the best people you'll ever know. There is a ton of bickering that goes on, but when all is said and done, they've always got your back. Some important milestones in life will bring you even closer.
Your sister knows all of the buttons to push to make you go crazy at times, but she also knows the best ways to make you feel better. Your sister is your biggest ride or die, and that will never change. These big (or sometimes smaller) moments in life not only highlight how much she means to you, but also how drab your life would be without her. You are each learning from each other all the time, even if you're the older one, and with each new landmark event or situation, you grow even more.
No matter the age difference, or whether you're older or younger, you may sometimes forget how great she is. Having a sister in your life is truly a blessing, although it feels like such a chore at moments. Don't forget these milestones, and remember that she's a pretty cool human being.