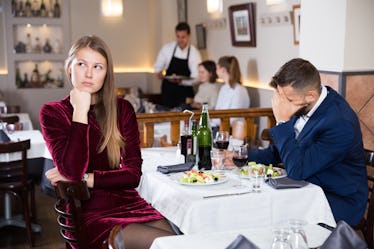 7 Ways To Keep Calm When You Were Expecting A Ring & Didn't Get One
OK, so you were totally expecting a proposal this holiday season, and it hasn't come yet. You and your partner have been talking about marriage for awhile. They may have even dropped hints that they were getting you a ring, but the holidays are almost over and you find yourself ringless and totally confused. You're not "crazy" for expecting something, so don't panic at all. There could be any number of reasons why your partner didn't propose, but you're probably worried something is up. You want to know how to stay calm when your partner doesn't propose.
I know telling someone to calm down when they're stressed out does not help at all, but hopefully taking a deep breath can help give you a second to better understand what is up and how to deal with it all. The holidays are a stressful time already, and you were probably working yourself up waiting for that surprise. You probably even made sure to keep your nails well-manicured in the event that you would need to snap a certain pic for all of Instagram to see. Now, you're upset and confused with your flawless nails. Hopefully these seven things will help you better understand what's up, and get back to feeling better again. It's the holidays after all, and it should be the most wonderful time of the year. Don't let any ring stop that for you!