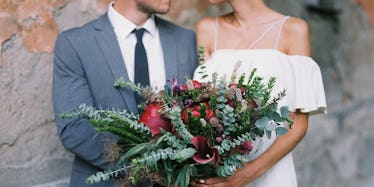 Here's Why Getting Married On A Holiday Is A Terrible Idea
Milles Studio
On paper, getting married in front of a huge Christmas tree, as fireworks go off on the Fourth of July or as the ball drops on New Year's Eve seems like the most romantic way to say, "I do."
It sounds like something that would happen in a romantic novel, but in the real world, getting married on a holiday is a disaster for a number of reasons.
Need convincing? Here are seven reasons why having your wedding on a holiday weekend is a bad idea.
1. It will cost you a fortune.
Weddings are already expensive, and weddings that happen on popular dates and at popular times are even more expensive. When you get married on a holiday, you're not just competing with other engaged couples, but with everyone who is trying to have a party that day.
You're going to need to pay the highest amount premium for vendors, locations and all the associated costs of getting married -- and that's before everyone expects an extra-large tip for being willing to work the holiday.
2. It's inconsiderate to your guests.
When you plan your ceremony and invite guests, you are asking them to give up whatever plans they have and celebrate with you. This is no big deal on a random Saturday, but when you're asking them to focus on you for Christmas, New Year's Eve or Halloween, you're demanding they prioritize you over whatever other plans or traditions they usually have.
Let's face it: Most of us have tight enough holiday schedules and asking someone to give up their plans for a wedding during the holidays is less than ideal.
3. It's stressful.
Planning a wedding is stressful. Holidays are stressful. Planning a wedding during the holidays is more bother than its worth. Everyone is busy, at the end of their ropes and frustrated with everything. Save your sanity; get married during the slowest time of the year in your dream location.
4. Caterers and planners may be booked or closed.
Since the holidays are incredibly busy for many caterers, they are often booked during the holiday season very early, or they may be closed for the season.
If you're going to have a wedding on a holiday, you absolutely must find a wedding planner who will be able to call in favors or talk to caterers to find out who will be open.
5. Your anniversary will forever be overshadowed.
As a young couple, the idea of celebrating your anniversary under a Christmas tree or renewing your love every year while the ball drops on New Year's Eve might sound incredibly romantic. But what if you plan to have kids?
How will it feel when your children ripping open their presents is more important than celebrating your anniversary? Or when you celebrate a milestone anniversary and everyone is too busy with other plans to make it to your party? Not ideal.
6. Travel will be impossible for your guests.
Major holidays, from Labor Day through New Year's, cause huge traffic backups all around the country – and that's before any extreme weather events come into play. Gas is always more expensive that weekend, plane tickets are ridiculous and Interstates and highways are jammed tight.
You want your guests arriving at your wedding happy and relaxed, ready to celebrate with you and lift you up. So starting their experience with a travel nightmare will not set the right mood.
7. Not everyone gets extra time off
Many couples consider having their weddings on the holidays because they get extra time off, and so have more time to prep, plan and then enjoy a few extra honeymoon days for free. That's great for folks who have that type of work, but those who work in healthcare, retail or a number of service professions are often expected to work extra during these times.
They may even be paid a shift differential or overtime to pick up shifts during the holidays, which they may financially count on. By choosing that time for your wedding, you're asking them to choose between their livelihood and your celebration.
When you're planning your wedding, it's easy to focus on how the day is about you and your spouse-to-be, but the purpose of a wedding is bigger than that.
If you want your friends and family to attend, then choose a date that will make the travel easy. And if you're trying to pick a date that they won't attend, skip the holiday frustration and elope for a destination wedding -- either choice will be much less stressful for you.