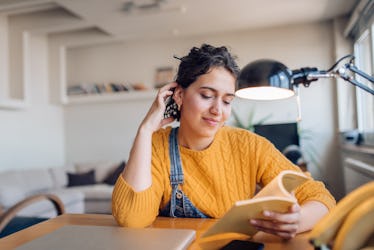 How To Pumpkin Spice Up Your Book Club This Fall & Make It A Total Page-Turner
MixMedia/E+/Getty Images
Is there anything cozier than curling up with a good book in the fall? It's quite possible that even the harvest-scented candles in your home can't beat this experience. You might wrap yourself up in a big blanket, turn the pages of your romance novel, and think, "This is it." What if we gave you the scoop on how to start a virtual book club so you can take this cozy experience to the next level?
Your jaw may drop as far as it did after your favorite character turned to the dark side in a recent thriller you read, or it was announced that your go-to novel would be made into a movie. You'd likely happily accept the expertise so you can rave about the novels that were just released with your BFFs. You can already imagine the passionate talks you'd have over the main character's motives and the themes that slip their way into the storyline. While everyone is chatting about the scenes that caught their eye, you'd reach for your cup of hot tea or bites of appetizers you prepared.
To be honest, sharing your hobby with friends like this totally takes it to the next level and ensures you never get bored doing what you love. Here's how to start a thrilling virtual book club with your friends that'll leave you turning the pages of your book and feeling cozy this fall.
We only include products that have been independently selected by Elite Daily's editorial team. However, we may receive a portion of sales if you purchase a product through a link in this article.