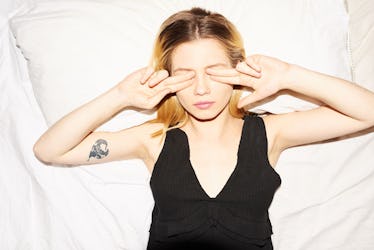 Experts Reveal How To Get A Better Sleep During Your Period If PMS Always Keeps You Up
I, like most people with a vagina, have a bone to pick with my menstrual cycle. Listen, I sat through the growing-up program in elementary school. I read through all the pamphlets, lived through approximately 168 cycles since the ripe age of 12, and yet somehow, up until this past year or so, I'd never experienced the immense inconvenience that is menstruation insomnia. I've been rattling my brain trying to figure out how to sleep better on my period because, guys, this has never happened to me before. Struggling with PMS fatigue is bad enough, but how am I supposed to combat the daytime exhaustion if I can barely sleep through the night without waking up to pee, or — my personal fave — for no reason at all?
If nothing else, I guess I can take some comfort in the fact that I'm definitely not alone in experiencing these awful sleeping patterns during my period. According to Reader's Digest, a survey issued by the National Sleep Foundation found that a whopping 67 percent of women struggle to get a decent night's sleep during their cycle. So not only are you going to bleed, it's likely you're going to be tired AF while doing so. Now isn't that just peachy?
I understand the physical side effects of a period, like abdominal cramping and back pain, but sleeping is literally how your body recharges and heals itself so you feel refreshed in the morning. So why, then, is your body rejecting sleep when, in reality, snoozing could be your saving grace during that time of the month? Naturally, it all comes down to hormones.
In an exclusive interview with Elite Daily, Alisa Vitti, founder of Flo Living, author of WomanCode, and creator of the period-tracking app MyFlo, says your quality of sleep during menstruation is a direct reflection of your hormone levels — specifically, estrogen and progesterone. In the days leading up to your period, Vitti says, estrogen and progesterone levels rise, then fall. This is pretty standard, and shouldn't trigger any strange symptoms. But, "when you have too much estrogen and not enough progesterone to keep this all balanced," Vitti explains, that's when insomnia, on top of PMS, can happen.
"When [progesterone] is low, you have less ability to balance out your estrogen levels," she tells Elite Daily. "This is the source of the insomnia: Elevated estrogen negatively impacts melatonin and serotonin production. The combination of both is what we need to fall asleep and stay asleep."
OK, so PMS sleepiness, and lack there-of, is all affected by what's going on inside your body. Now that we've identified the problem, let's talk solutions. If you, like me, are experiencing PMS insomnia, refer to the following advice from the experts to help you snooze soundly, steadily, and sans interruption all night long, no matter where you are in your cycle.