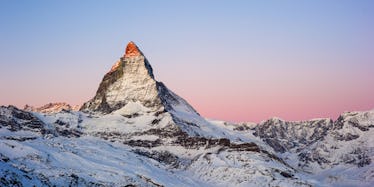 How People Around The World See The Winter Solstice In All Its Natural Glory
This Thursday, Dec. 21, officially marks the winter solstice, and in turn, the shortest day of the year in the Northern hemisphere. So whether you're planning to go to bed super early because of the lack of sunlight, or you want pull an all-nighter and get lit AF on the longest night of the year, there are plenty of different ways to celebrate the solstice (some of which, shockingly, don't include manipulating your sleep schedule). However, if you're looking for a celebration with a view, and you're wondering how to see the winter solstice with your own two eyes, there are a few places dedicated to seeing the natural phenomenon in all its glory, and trust me, the views will truly take your breath away.
People around the world celebrate the winter solstice in a variety of ways. Festivals have been dedicated to the official beginning of winter, monuments have been built to see the solstice sunrise, and gatherings have taken place for thousands of years to honor winter solstice rituals.
In fact, special architectural structures have been built in multiple locations around the world, specifically so that people could revel at and honor the rising sun on Dec. 21, according to Smithsonian.com.
Though we tend to view the winter solstice as a dark and dreary time, ancient cultures rejoiced when the solstice began, because it meant that spring and summer were on their way.
There are places all around the world — like Glastonbury Tor, featured above — that were built for and dedicated to viewing the solstice, and you can still visit them today for a truly awesome view of nature doing its thang.
Glastonbury Tor is a vast mound in southern England that is an optimal spot to celebrate the rising of the sun on the first official day of winter. There's also a pyramid called Chicen Itza in Mexico, which creates the illusion that the sun is literally rolling up the side of it.
But Egypt definitely takes the cake, as it's home to about 650 beautiful temples that were exclusively made to honor the sacred rising sun during the winter solstice. The gleaming rays that bounce onto their walls are said to create a magical sight to the naked eye.
The solstice is also a religious time for some cultures, and in England, there's an important Pagan festival that dates back thousands of years and celebrates the symbolic themes of renewal and rebirth associated with this time of year. Additionally, thousands of people gather each year at England's famous standing stones at Stonehenge to worship and marvel at the gorgeous sunrise.
As they wait for the winter sun to rise, worshippers often dance, sing, play music, kiss the sacred stones, and they even do yoga. If anyone wants to book me a last-minute flight to England, I will not be opposed in any way — just throwing that out there.
Some people even enter into a lottery every year to win an opportunity to see the winter solstice from a sacred location.
According to TIME, only a few dozen people (out of nearly 33,000 applicants) are selected to stand inside of Newgrange, which is an ancient burial mound located in the heart of Ireland.
Inside the monument, there's a passage that houses a chamber that is supposedly directly in line with the sun, which completely illuminates the monument at dawn, making every corner glow with a beautiful, natural light. Now that's something worth winning the lottery for, amirite?
Alas, unless you happen to live near one of these monuments, it's probably too late to book a trip to one of these amazing locations. But hey, maybe it can be one of your new year's resolutions to book a trip to any one of these breathtaking landmarks to welcome the winter solstice of 2018 a year from now.
For now, why not grab some friends and host your own winter solstice celebration? Whip up some delicious dishes, and as the day comes to an end, bundle up and go outside together to watch the sunset, no matter where you are in the world.