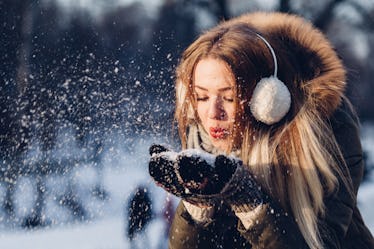 7 Ways To Celebrate The Winter Solstice To Make The Most Of It
Those night owls are coming out of the woodwork, because the shortest day of the year is approaching. The Winter Solstice is the one day of the year when there will be more dark hours than light. So, you're probably asking yourself questions about how to celebrate The Winter Solstice so that you're not finding a corner to sulk in and shun winter in general.
The Winter Solstice is on Thursday, Dec. 21 this year, and if you are a fiend for the night, it doesn't bother you at all that the light will be gone sooner than usual. Now, as much as we refer to the day as the solstice, the actual solstice happens at a specific time on that day. According to time and date, the solstice is when the sun is directly above the Tropic of Capricorn. For us in the Northern Hemisphere, it means we will have less light, and for those in the Southern Hemisphere, they will have more. Lucky!
Don't be discouraged by the darkness. In fact, there are more than a few ways that you can take this short, darker day and celebrate it, so that you can make the most of it. You know how Elsa in Frozen sings about how the cold never bothering her anyway? Well, we are taking that same pioneering spirit and applying it to the shortest day of the year by celebrating for the better.