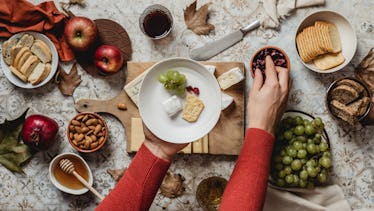 10 Foods To Eat During The Winter Solstice That'll Warm You Up On This Chilly Day
Even if you're the type of person who prefers the chill of December air, I'm sure you can agree that the loss of sunlight to daylight savings has been kind of a bummer. Luckily, nighttime is about to get shorter by the increment after Thursday, Dec. 21, the shortest day of the year — which, at least in my opinion, is definitely something to be celebrated. Arguably, the most important part of the day is going to be figuring out what to eat during the winter solstice. Depending on the culture of your home, there are various ways of celebrating the winter holiday, but it's important to design a menu that will differentiate these customs from, say, Christmas dinner or the assortment of finger foods you lay out on New Year's Eve.
Similar to how you get together with friends and family for a bonfire or barbecue to celebrate the summer solstice in June, the winter solstice is a holiday of its own, and should be treated as such. Unfortunately, the shortest day of 2017 lands on a Thursday, so unless your friends and family are all in for a thirsty one, it's probably best that you stick to a traditional, wholesome meal loaded with feel-good, soulful foods.
Fair warning, friends: Christmas week is full of turkey dinners, stuffing, and the like. It's basically Thanksgiving on a smaller scale, so rather than copping out on creativity and basing the foods to eat during the winter solstice on every other holiday you celebrate, try something new! The winter solstice is celebrated around the world, and there are countless traditions to pull inspiration from to make the holiday stand out from the rest. Here are a few foods to treat yourself to on Dec. 21.