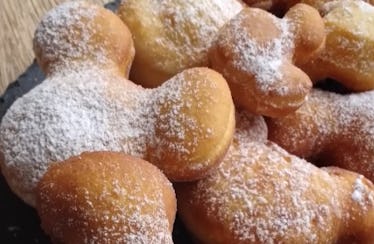 10 Disney Parks' Desserts To Make At Home When You Miss The Happiest Place On Earth
Any Disney lover can vouch that the treats at the Disney parks are delicious AF. Even when you're not at "The Happiest Place on Earth," you're probably daydreaming about Dole Whip, the massive Kitchen Sink Sundae, and Mickey-shaped beignets covered in powdered sugar. If you're wondering how to make Disney parks' desserts at home, your wish upon a star just came true.
According to the official Twitter account for Disney Parks' public affairs department, Disneyland Resort in Anaheim, Calif. and Walt Disney World Resort in Orlando, Fla. are temporarily closing starting on Saturday, March 14, 2020 and Sunday, March 15, 2020, respectively, in response to the recent coronavirus outbreak, which has spread throughout the world. So, this roundup of recipes is here to bring foodie magic to your kitchen when you can't be at the parks.
While you may be bummed about not being able to ride Space Mountain or watch the fireworks in front of Sleeping Beauty's or Cinderella's castle for the time being, you can still enjoy a taste of Disney in the safety of your own home with any of these recipes. You could even make it an entire Disney-themed day by watching some ride-through videos on YouTube, mixed in with streaming the Magic Happens parade.
Take some selfies with your homemade churros in hand, and it'll basically be like you're at one of the Disney parks... but you never have to leave your cozy space.