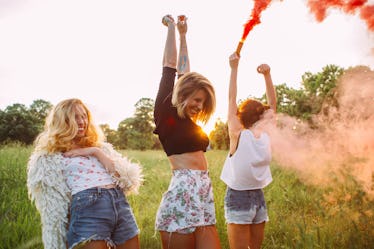 How To Live Your Best Life This Summer If You're Not Going Away
Summer is a prime time to put reality on hold for a bit, pack up your bags, and hit the road for a vacation. But alas, for some of us, a big trip is just not in the cards this year. Whatever your reason may be, you shouldn't let it get in the way of making the most of this glorious time of year. An epic summer is still possible, even if you're stuck at home. A few key pointers on how to live your best life in the summertime will send you well on your way, but you may be wondering exactly how to do that if you're not jetting off to someplace tropical.
All of the exciting things that happen when you're on a summer getaway can be replaced with something more local. You just have to know how to be a little spontaneous, and put your creative cap on. If you work during the week, make the most of every weekend to do something exciting and new, like any of these nine activities. Sure, you might not be sailing away on a Mediterranean cruise, but you don't need to be on a ship to have a dope summer you'll remember forever.