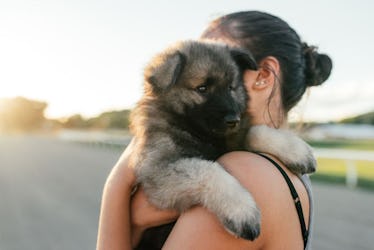 A Vet Reveals The 5 Things You Need To Know To Keep Your Pup Healthy This Summer
As far as I'm concerned, summer is basically just a season made to spend more time than ever with your furry pup, since the days are longer and the grass is practically begging to be rolled around in. After all, they don't call it the "dog days of summer" for nothing, right? While you're busy relaxing with your dog after a ruff day at work (I had to, I'm sorry), it's important that you know exactly how to keep your dog healthy in the summer heat, so you can both make the most of the best season of the year.
In an interview with Elite Daily, Dr. Janice Elenbaas, a retired veterinary chiropractor and founder of Lucky Dog Cuisine, shares some of the best ways to make your pup's summer the safest one yet. It can seem a little daunting at first to make sure your dog is as ready to celebrate the summer as you are, but a few simple reminders can help you both have peace of mind, even when the temperatures start soaring.
Once you're up to speed on doggy sunscreen and fashionable puppy sandals (yes, you read that right, and they are one of the cutest things ever), you'll be ready to pawsitively bask in the long summer nights with your fur baby at your side. Here are five tips for keeping your pupper safe and healthy all summer long.