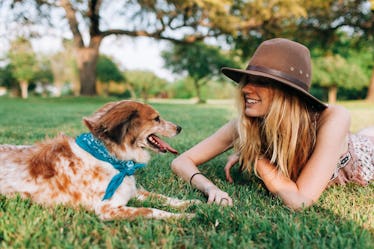 30 IG Captions For Pics With Your Pup This Summer, To Make The Memories Last Fur-Ever
There are so many fun things to do in the summer, but out of everything, you really just want to spend some quality time with your pup. Going to the park, camping in the woods, and playing on the beach can all be made so much better with your fur baby by your side. When you're on all of your summer outings, don't forget to snap a pic of you and your bestie to post on the 'Gram with some summer captions for dogs.
With the sun shining and the gloriously warm weather finally here, you probably can't wait to get out of the house, and I'm sure your dog feels the same. Whether it's a sunny walk around the neighborhood, or you have a big vacay planned with your furry friend, you'll definitely need these 30 summer captions for any pictures you take.
In fact, there are a hotels throughout the country that allow dogs, including the SoHo Grand in New York City, which lets your dog stay with you for no additional charge. Pretty much, if you want to bring your dog with you everywhere you go this summer, you can. I know if there are pups at any barbecue I'm attending, I'll be chilling with them the whole time. So, make this summer one that is truly paw-some and Instagram-worthy.
1. "Dogs are not our whole life, but they make our lives whole." — Roger Caras
2. "All you need is love, and a dog." — Unknown
3. "Dog days of summer." — Unknown
4. "I think the reason we're born with two hands is so we can pet two dogs at once." — Unknown
5. "Every dog must have his day." — Jonathan Swift
6. "Sometimes, I just need to spend the day alone with my dog." — Unknown
7. "A dog is the only thing on Earth that loves you more than you love yourself." — Josh Billings
8. "Forget diamonds. Dogs are a girl's best friend." — Unknown
9. "If I had a dollar for every time my dog made me smile, I would be a millionaire." — Unknown
10. "The road to my heart is paved with paw prints." — Unknown
11. "Dogs are my favorite people." — Richard Dean Anderson
12. "Dogs are our link to paradise. They don't know evil or jealousy or discontent. To sit with a dog on a hillside on a glorious afternoon is to be back in Eden, where doing nothing was not boring — it was peace." — Milan Kundera
13. "The dog days of summer can be ruff." — Unknown
14. "Home is where the dog is." — Unknown
15. "What a beautiful world it would be if people had hearts like dogs." — Unknown
16. "My dog is my heart." — Unknown
17. "The tans will fade, but the memories will last fur-ever." — Unknown
18. "Happiness is a wet nose." — Unknown
19. "I am one hot dog." — Unknown
20. "I will always woof you." — Unknown
21. "I shih tzu not, it's summertime." — Unknown
22. "I dream of summers that last fur-ever." — Unknown
23. "I'm gonna soak pup the sun." — Unknown
24. "Happiness is a warm puppy." — Charles M. Schulz
25. "The dog lives for the day, the hour, even the moment." — Robert Falcon Scott
26. "The dog on the beach in the summer is just a hot dog." — Unknown
27. "Have a paw-some summer." — Unknown
28. "I labra-dore this season." — Unknown
29. "Pugs and kisses." — Unknown
30. "I puggin' love the sun." — Unknown