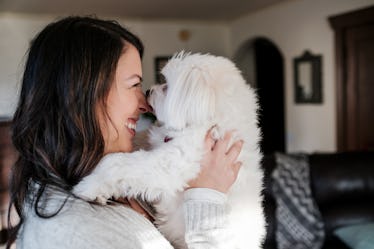 6 Reasons Why Bringing A Puppy Into Your Life Will Change Your World Forever
There are many important reason why dogs are known as man's best friend. The minute you welcome a puppy into your life, you are changed for the better. Even if you don't have a fur baby of your own, you can totally relate to having your entire day made when you see an adorable pooch walking down the street. They are fluffy and incredibly cute at all times, but those aren't their only positive characteristics. There are actually a ton of benefits of having a dog that'll ensure you're living your best life.
A pooch will deliver constant companionship, but there are a few health benefits of having a dog as well. I wish I knew these benefits of having a puppy back when I was a kid. It would have totally helped with my argument to my parents on why we should get a family dog. In fact, I believe it should be mandatory that all families should have a puppy.
Dogs are miracle workers. If you just so happen to have a furry friend at home, make sure you give them an extra treat today, because they certainly deserve it. Thank them for all of these reasons why your life is honestly spectacular, because of them.