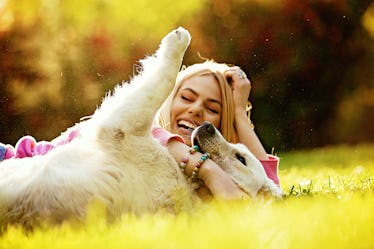 9 Things Only Dog Moms Know About Their Fur Baby With Just One Look
grki/Fotolia
The bond between a dog mom and her fur baby is unlike any other. No matter what the world throws at you, you and your pooch will always be there for each other in an unspoken bond of friendship. There are things dog owners understand that non-pet parents will just never know (I recommend rescuing a fur baby of your own and, believe me, you'll get it).
No matter how much chaos ensues when you bring your pupper home for the first time, you'll be able to communicate through looks and unintelligible sounds before you know it. Your dog will know just what you mean with that long sigh as you surrender yourself to the couch after a long day of work. They'll be right by your side for kisses and cuddles because they love you.
Having a fur baby of your own is the adventure of a lifetime. You have a lifetime companion to turn to in times of need, and to laugh with (and at) several times a day. You have the best cuddle buddy you could ever ask for, and there will always be someone by your side to keep you up and active. You share secrets, jokes, and lots of snacks, so you can be sure that you and your pup have lots of knowing looks and mutual understandings. Here are nine things only dog moms can understand about their fur baby with one look.