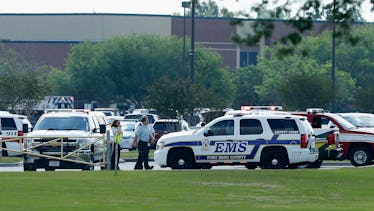 Here's How To Help After The Tragic Santa Fe High School Shooting
Bob Levey/Getty Images News/Getty Images
A mass shooting took place at Santa Fe High School on Friday, May 18, reportedly leaving 10 people dead. If you're shaken by the tragedy and are wondering how to help Santa Fe High School students, rest assured there are many options you can choose from. Whether you're in a position where you can donate money to a particular cause, or if you'd rather sign a petition for stricter gun laws, there are multiple routes you can take that will help support Santa Fe students (and other school shooting victims).
The horrific shooting that took place on Friday morning in Santa Fe, Texas is the 22nd school shooting this year, according to CNN. Out of the 10 victims, nine were students, and one was a teacher. The alleged suspect is reportedly in custody. President Trump responded to the shooting via Twitter, and addressed the tragedy once more during a press conference on Friday afternoon.
If you have already spoken your mind about the tragedy and are seeking additional ways to help students of Santa Fe High, take your options into consideration. You'll probably discover that there are multiple ways for you to help the Santa Fe students, depending on what you are capable of doing.
For starters, you can join the gun control cause — free of charge. There are multiple organizations you can get involved with that are fighting for stricter gun laws as we speak. One organization in particular is called Everytown for Gun Safety, and their mission is to "end gun violence and build safer communities." If you wish to get involved with Everytown in your own neighborhood, you can check out their website and see what Everytown events are happening near you.
Following the Santa Fe shooting, Everytown encouraged their Twitter followers to "demand our leaders take action," and text ACT to 644-33.
If you wish to take further action to help Santa Fe students (physically), you can donate your blood. According to ABC 13, the University of Texas Medical Branch was accepting blood donations on Friday between 11:30 a.m. and 2:30 p.m. The blood bank was reportedly provided by MD Anderson Cancer Center.
If you're in the Santa Fe area and missed out on Friday's opportunity, you can donate blood on Saturday, May 19 and Sunday, May 20 from 9 a.m. to 3 p.m. These donations will be accepted at the Jennie Sealy Hospital Conference Room 2.506B, ABC 13 reports. If you wish to donate blood and aren't located near the affected community, you can find a donation location center near you.
If aren't able to donate blood, don't fret — there are more options to choose from. One extremely important thing you can do to help Santa Fe students (and other school shooting victims) is contact Congress about gun control. Making your voice heard is just as important as joining a cause or donating blood, so pick up your phone and speak your mind.
In order to do so, visit USA.gov's "How to Contact Elected Officials" page, which allows you to get in touch with government leaders. Once you're there, call the Capitol switchboard at (202)-224-3121, and ask to be connected with your local representative. Once you're connected, you'll likely be able to speak with their legislative assistant and make your stance on gun control known.
Another way to help Santa Fe students is to donate directly to the victims' families. Helpful donation websites like GoFundMe will help the public donate to those who have lost loved ones during the horrific Santa Fe High School shooting. At the time of publication, there aren't many donation pages created yet. However, keep in mind they might be created within days following the shooting.
Whether you've given blood, donated money, or called Congress to make your stance known, you should be proud of yourself. Taking action isn't always easy, but helping others makes it worth it.