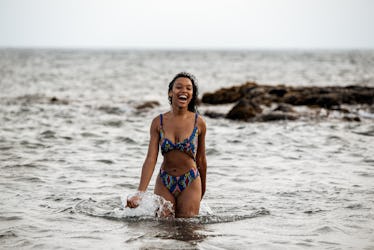 A Guide To Getting A Cutie On Vacation To Notice You
You're a million miles from home on a sunny beach, covered in coconut-scented sunscreen, drinking a smoothie out of an emptied pineapple. Across the cabana, you cross eyes with a total hottie. You want to talk to them, but you're not sure they see you. As you mull over what to say, you realize that despite your banging tan and cute AF outfit, getting someone on vacation to notice you can feel a little daunting. Not to worry — with a little pep in your step and maybe a refill on your smoothie, you'll be flirting away in no time.
"Vacation is absolutely one of the best times to meet someone. You are relaxed, psyched for a fabulous time, and probably looking your best!" Fran Greene, licensed clinical social worker and author of The Secret Rules of Flirting tells Elite Daily. "Being on vacation is the perfect combination of new people, new experiences, and a sense of anonymity. You also have the most important thing in common — you are all on vacation!"
If you're trying to mack with a cutie, all the while exploring a new place — here are three tips to getting someone to notice you on vacation.