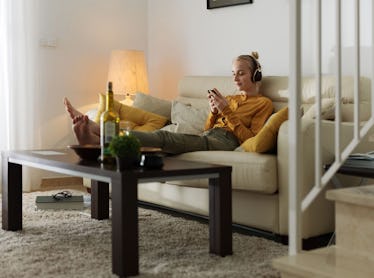 How To Get Over A Breakup, Based On Your Love Language
Epic phone conversations to analyze every detail with your BFF, a pint of Halo Top to eat your feelings, a kickboxing class to get out your aggression — these are just some of the ways we get over the end of a relationship. We all have certain strategies that are more effective for us, depending on our own unique needs and personalities. And when it comes to figuring out how to get over a breakup, your love languages can factor in, too.
The love languages were developed by counselor and author Dr. Gary Chapman. After observing couples in counseling for more than 30 years, he observed patterns in the ways that partners communicate with each other, and concluded that there are five universal ways in which people express and interpret love: physical touch, words of affirmation, quality time, gifts, and acts of service. According to Chapman, while we all may have two or three that speak to us, everyone has one primary love language that takes precedence. You may be well aware of how your love languages can play a role in your relationships. By knowing what makes you feel loved, you can better express to your partner what you need from them. But love languages are just as important to keep in mind once you split.
Think of it this way: you'll definitely need to feel loved after a breakup. And if you know what your languages are, you can show yourself a little extra TLC and potentially heal more quickly from the trauma.
"After a breakup, we're often left to our own devices and with no one engaging us in our love language, we're likely to spiral into a pit of despair where we feel unseen and unstimulated," explains Chelsea Leigh Trescott, breakup coach and podcast host of Thank You Heartbreak. "To ward against this, it's up to us to initiate self-care through our various love languages. Where your partner no longer meets you at your most tender place, you must learn how to."
So, want to know how to cope with a recent split? Here's how experts advise moving on after a breakup, according to your love language.