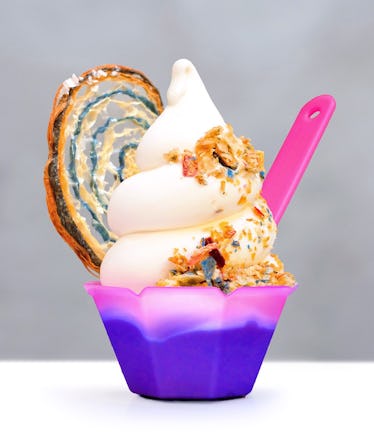 Croissant Butter Soft Serve Is Exactly What You Need To Stay Cool This Summer
Courtesy of Supermoon Bakehouse
Now that summer is here and the days are getting hotter, I think we've all been gravitating toward ice cream to help us beat the heat. Of course, there are tons of flavor options you can try, but if you're anything like me, you like ones that are both over-the-top and capable of satisfying your needs for a sweet and salty combination dessert. That's why you might need to put this croissant butter soft serve on your radar — and yes, you read that correctly. Not only is it a must-have to satisfy your sweet tooth and keep you cool, but it's totally Instagrammable. (If you're into that, of course.) I could go on about its perks TBH, but if you're already sold and ready to whip out your wallet, here's how to get croissant butter soft serve.
The treat was recently released by a New York bakery called Supermoon Bakehouse, which is known for its creative croissant innovations. According to the company, the salty-sweet soft serve comes peppered with dehydrated, multi-colored croissant crumbs and is topped off with a slice of croissant that's been baked not once, but twice, with extra salt, butter and sugar on it. The dessert even comes with a color-changing spoon and cup that changes with both heat and cold. (Honestly, who needs to go outside to play when you have something as entertaining and enjoyable as this???)
Here's the pic, but promise me you won't lick the screen.
OK, I trust you. Check it out:
Mmm. Just imagine hanging out with your friends after a long summer day, and enjoying this salty-sweet, gooey deliciousness that melts in your mouth... Mine is already watering just thinking about it. Excuse me for a sec, folks.
All right, I'm fine now.
Anyway, the soft serve is only available to people in the New York City area (sorry, guys, I'm disqualified, too), but you can always try to recreate it for yourself. Maybe? (Probably not, but I really hate disappointing you like this.)
If you're still here and interested in getting a treat for yourself and/or your besties, you can head over to Supermoon Bakehouse on weekdays from 8 a.m. to 11 p.m., and on weekends from 9 a.m. to 12 a.m. With late hours like these, you'll never really have to worry about it closing before you melt in the heat.
If you're somehow not sold on the soft serve, though, you might find alcoholic push pops worthier of your dollars. The boozy pops are sold at a Las Vegas-based company called Buzz Pop Cocktails, which are made with Italian sorbet that's infused with liquor. The liquors range from vodka, rum, tequila, or whiskey, depending on the flavor you prefer. Those eight flavors include Mango Passion Fruit, Caribbean Breeze, Moscow Mule, Pink Paradise, Southern Belle, Blueberry Mania, Watermelon Patch, and Lemon Drop Martini. And as if that weren't enough to send you on your way over to the website to order a pack (or three), they're also vegan, gluten and fat-free, and under 100 calories. Honestly, they're the kind of boozy treats that you never knew you needed in life.
But if you don't happen to be of legal drinking age, don't freak out just yet, because there's still options for you — like Starbucks' new Dragon Drink. The beverage is concocted with creamy coconutmilk, sweet mango, and juicy, red-ripe dragon. Needless to say, the drink is loaded with flavor, and is surely the light treat you need to keep you going on a hot summer day. Talk about a win-win situation.
Whatever you decide, summer is surely sounding a whole lot better, thanks to these yummy treats. Cheers!